Lab Events and News
2015
---
August 31:  Farewell lunch for Dr. Mohammad Yaghmour.  Mohammad begins his new position as the UCCE Orchard Systems Farm Advisor for Kern and Kings Counties on October 1.  We will miss him in the group, but we also know that he will not be too far away and look forward to potential collaborations in the future.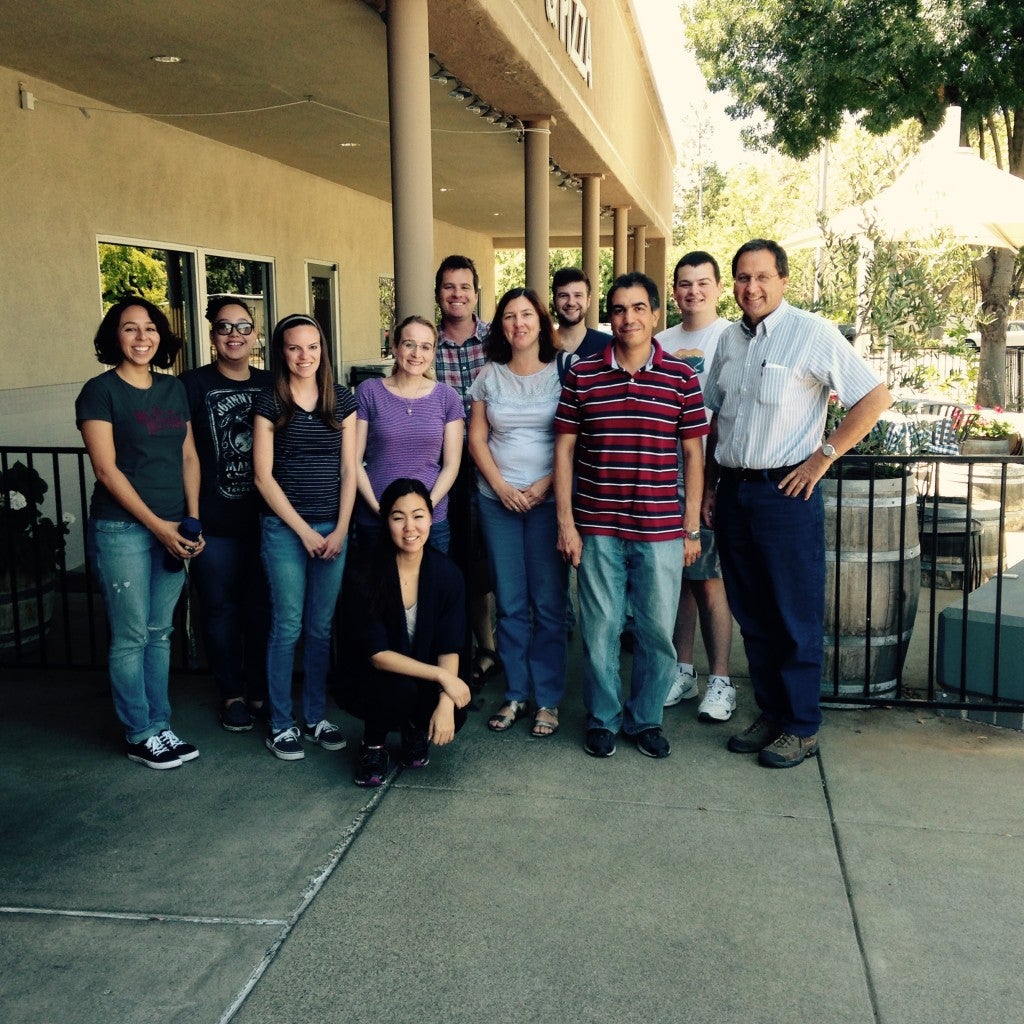 ---
August 5-8:  Visit by Dr. Fabricio Rodrigues and Dr. Emerson del Ponte of the Universidade Federal de Viçosa (UFV),  Departamento de Fitopatologia, Laboratório da Interação Planta-Patógeno in Vicosa, MG, BRAZIL.  Fabricio presented an excellent seminar to the department entitled "Silicon for the Control of Plant Diseases".
---
APS National Meeting  – August 1-5, Pasadena, California
---
July lab party at Rick's house.
---
Rick and other NPDN Directors and Associate Directors met in Washington, DC, with USDA NIFA colleagues for a two-day strategy planning session, July 20-21.
On July 22, Rick and other members of the NPDN Star-D lab accreditation board met at USDA NIFA headquarters in DC for a progress update and strategy session with new board members.
---
---
Tivonne Nguyen, M.S. in Plant Pathology.  Congratulations to Tivonne, who recently completed her master's degree in our program.  Her thesis is entitled: "Studies of Geosmithia morbida, the Causal Agent of Thousand Cankers Disease, and Nonpathogenic Geosmithia Species Carried by Pityophthorus juglandis and Their Interaction with Juglans Species of Economic and Ecological Importance in California".  Tivonne recently joined the scientific staff at NuSeed America in Woodland, CA.  Thanks to Dave Rizzo and Tom Gordon for their service on her thesis committee.
---
Sara Robinson "graduated" from the "Professors for the Future" program on June 3, 2015.   The PFTF is a year-long competitive fellowship program designed to recognize and develop the leadership skills of outstanding graduate students and postdoctoral scholars who have demonstrated their commitment to professionalism, integrity, and academic service.
---